When to rent a luxury coach vs a limousine for your event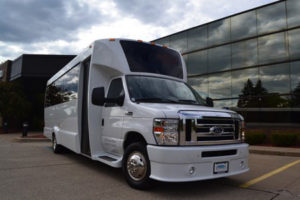 Planning for a special event can be fun, but it can also be difficult. You not only have to figure out where you're going and what you have to do, but you also have to make decisions on the details, like your ride. How do you know when to select a limousine or a luxury coach? They're both similar, yet have a few differences. This post will help you determine which vehicle you should choose for your special event.
Luxury Coaches
Luxury coaches are typically cheaper than limousines for larger groups
Luxury coaches offer more amenities, such as: TVs, laser shows, bars, and sound systems
Luxury coaches give you more space for guests, moving around, and dancing
Luxury coaches can typically fit more guests on board
Limousines
Limousines hold a luxury status
Limousines provides extra privacy from the driver
Limousines are typically less expensive than luxury coaches when you have a smaller group
Limousines are great for intimate / small occasions
Overall, the fastest way to determine the best vehicle for your special event is by first getting a headcount of your party. Luxury coaches can accommodate the larger groups, whereas the limousines can only accommodate about a dozen guests. You will also want to determine the style and atmosphere you want to set for your event. The luxury coaches say "party" and limos say "formal" or "class." To learn more about the available limousines and luxury coaches, click here, or call A Dream Limousine and Sedan at (734) 542-6800.